Rosy Rings - Sunlit Neroli Small Pressed Floral Candle
Rosy Rings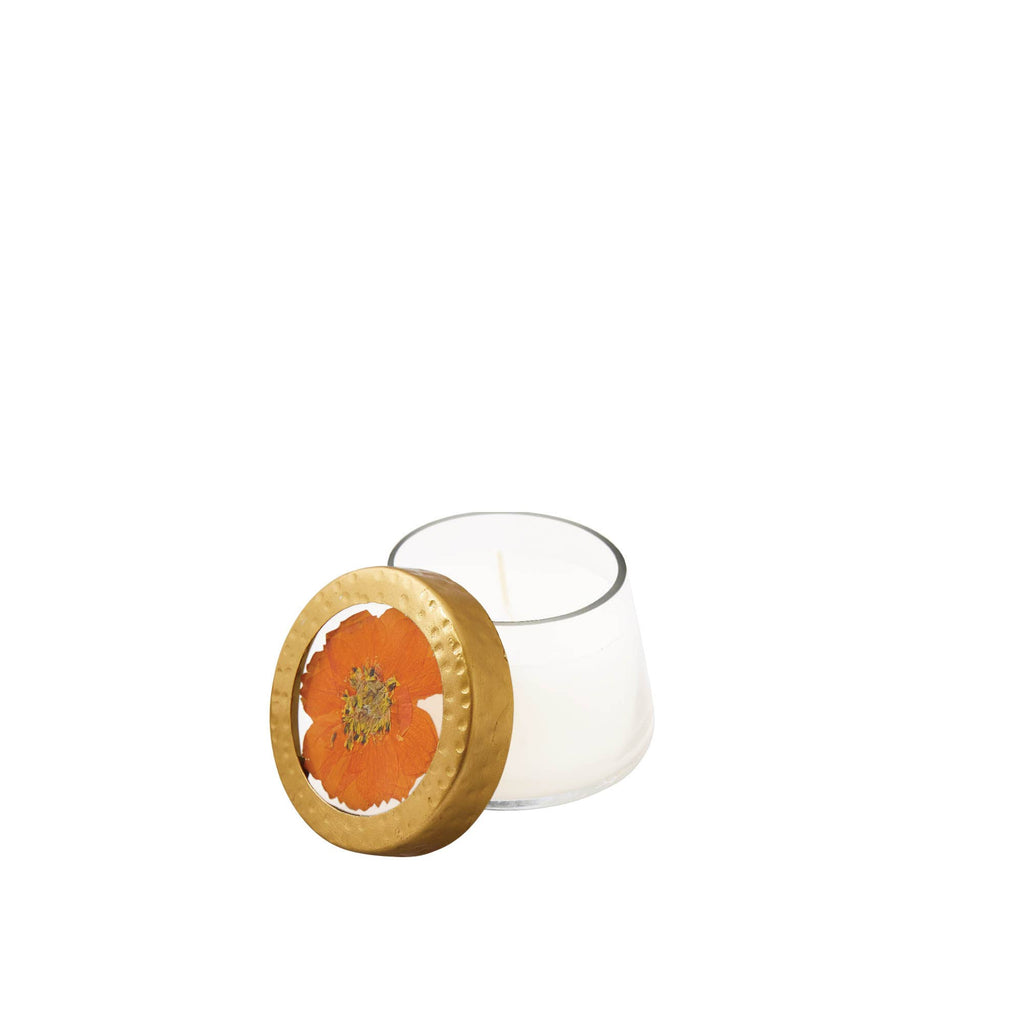 Rosy Ring's pressed floral candles feature dreamy floral tableaus displayed between panes of glass. Hand poured with a coconut wax blend. Lovingly handmade in Colorado.
Fragrance Notes: Amber, Crisp Apple, Fresh Pineapple, Lemon, Magnolia, Vanilla
Lid Botanicals: Cosmo
Wicks: 1
Ounces: 4.5
Burn Time: 22 Hours
Dimensions: 2.5"H, 2.75" Diameter
Instructions: Before lighting, trim the wicks to 1/4". The first time you light your candle, allow it to burn long enough to liquefy the top layer of wax. Typically this will take 1 hour for every inch of the diameter, though that time frame can vary depending on environmental factors, such as oxygen levels, drafts or airflow, and temperatures. Wax has a "memory", so allowing the candle to liquefy nearly edge to edge will help prevent an uneven pool from forming in the future. To ensure the best life of your candle, keep your wicks trimmed to 1/4" at all times. Your candle has reached the end of its useful life when there is 1/8" to 1/4" of wax left in the bottom of the vessel. Please do not burn your candle past this point, as you will risk damaging the vessel or its surroundings.
Care: Always burn your candle on a level, non-flammable surface. Do not place directly on furnishings or linens. Avoid using in drafty areas and keep away from flammable materials. Never leave your candle unattended while lit. If you notice anything unusual happening such as the container getting too hot, the wick "falling" towards the edges of the container, or an unusually large wax pool, please extinguish your candle immediately.
 About Rosy Rings: Rosy Rings is a small-batch artisanal brand, bringing nature inside with designs inspired by beautiful botanical elements. They combine carefully sourced materials, from fine fragrances to hand-blown glass, with real botanicals to create an experience to elevate any space. Their designs are each individual and unique; true to their botanical origins, no two products are – or should be – identical. All Rosy Rings products are lovingly hand crafted by their artisan staff in Colorado. At Rosy Rings, they strive to create a delightful experience with their one-of-a-kind products that fill your space with the beauty of nature.