Rosy Rings - Black Currant & Bay Petite Botanical Candle
Rosy Rings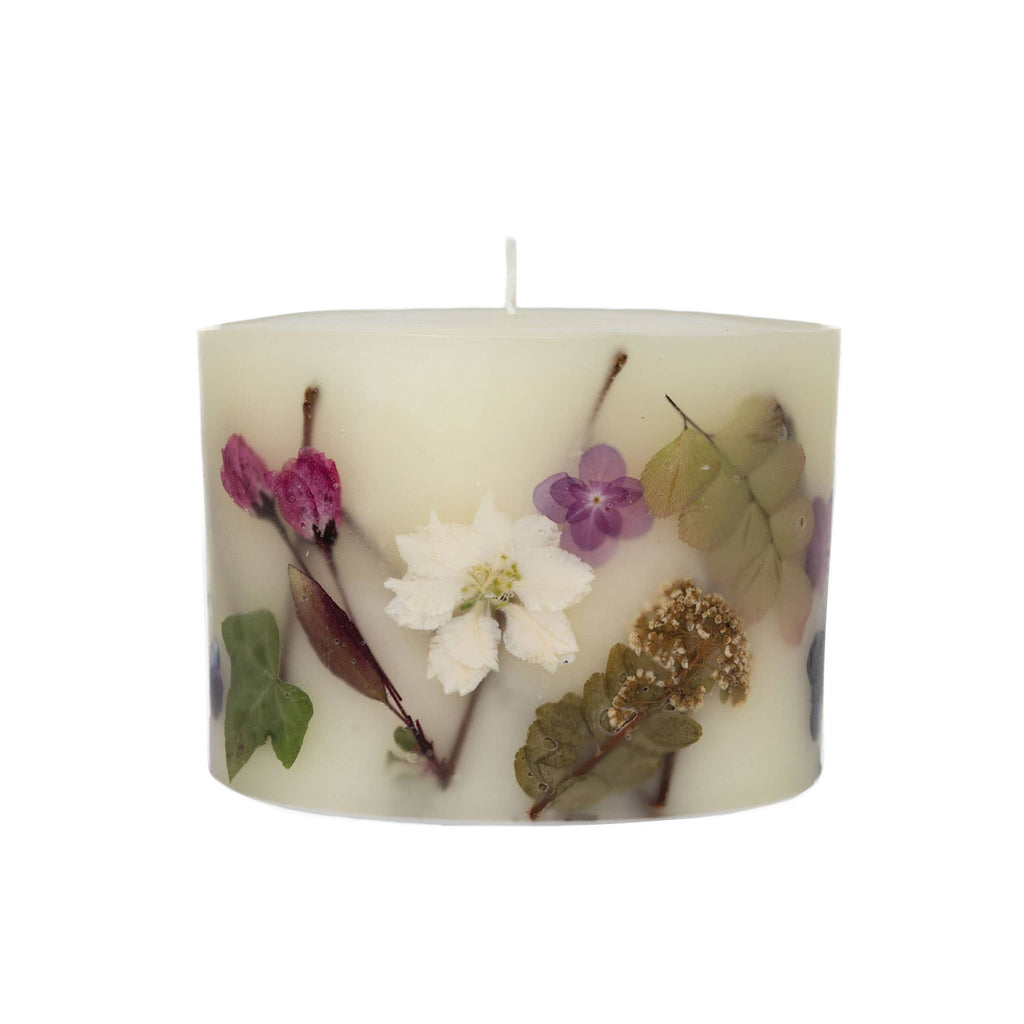 With every botanical element placed carefully by the hands of Rosy Ring's candle artisans, these beautifully fragrant candles can take up to 3 days to perfect. During this process each candle is carefully touched 10 different times, from pouring their exclusive wax blend by hand, to lovingly shaping each piece by hand and knife. This artisanal process ensures that the candle appeals to multiple senses by filling your space with fragrance and illuminating botanical elements.
Fragrance Description: A fragrant arrangement, constructed with just-gathered bunches of bay laurel leaves, golden apples and sweet clusters of black currants. A fresh, modern fragrance interpretation of aromatic and fruity.
Fragrance Notes: Bay Leaves, Black Currant, Cinnamon, Golden Apple, Juicy Plum, Tarocco Orange, Vanilla Bark
Essentials: Artemisia Leaf, Cedarwood, Geranium Flower, Lavandin, Lemon Peel, Orange Peel, Rosemary Leaf
Instructions: Before lighting, remove the wrapper + label from your candle and trim the wicks to 1/4". Never leave your burning candle unattended. Do not burn for longer than 5 hours at a time. Discontinue use when only 1" of wax remains at the bottom.
Care: Avoid using in drafty areas and keep away from flammable materials. Do not allow wick trimmings or other materials to accumulate in the wax pool or a fire may result. Always burn on a level, non-flammable surface. Do not place directly on furnishings or linens.
Burn Time: 60 Hours
Dimensions: 3.9" L x 3" W x 3" H
About Rosy Rings: Rosy Rings is a small-batch artisanal brand, bringing nature inside with designs inspired by beautiful botanical elements. They combine carefully sourced materials, from fine fragrances to hand-blown glass, with real botanicals to create an experience to elevate any space. Their designs are each individual and unique; true to their botanical origins, no two products are – or should be – identical. All Rosy Rings products are lovingly hand crafted by their artisan staff in Colorado. At Rosy Rings, they strive to create a delightful experience with their one-of-a-kind products that fill your space with the beauty of nature.