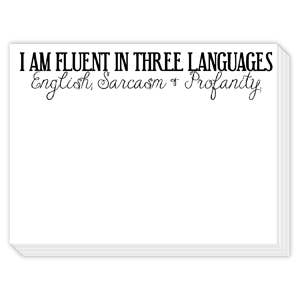 Say it like you mean it!
These slab pads of paper have been a customer favorite for years.
Typography and quotes come together to create these quirky and fun slab pads with sayings printed in black ink on white text paper, there's no holding back. Tied with chevron ribbon. Slab: 150 sheets, 6x8", printed on a thicker 90# paper.
About RosanneBeck Collections: Growing up with Texas traditions and southern values, Rosanne always held a deep appreciations for personal notes. With an instinctive eye for design, she found herself unsatisfied with the selection of stationery on the market, so she created her own line. RosanneBeck Collections maintains its iconic style, consistent value and clever artistry.