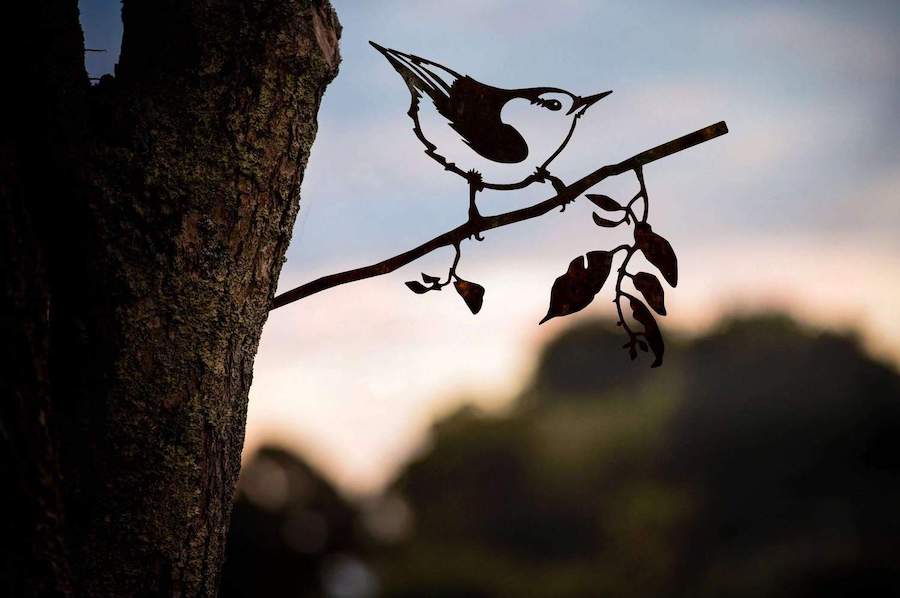 The Nuthatch is a perennially favorite among backyard birds. They earn their name from the way they crack open seeds. Nuthatches jam their seeds and nuts into tree bark, and then will whack them with their beak to bear them open. Get it…Nut Hatchers! Also known by toddlers as "That Funny Upside-down Bird", a Nuthatchers foot has one big toe that faces backward, while its other three toes face forward. This allows it to creep head first down tree trunks while searching cracks and crevices for insects. This metal Nuthatch stands proudly upright, but you're welcome to tap it in upside down if you're keen to keep the kids happy.

Metalbird started as a New Zealand-based guerrilla street art project in 2009. Inspired by stencil artist Banksy, Phil Walters designed, crafted and hammered up dozens of life-sized, Metalbird stencils for no other reason than to surprise, delight and intrigue. People loved them! Before long, the art project had turned into a side hustle, then a full time job, and finally with a small team they set themselves the lofty goal of becoming "the Largest Art Installation Project in the World".

Today these beautifully crafted, iconic, life-like bird silhouettes have been hammered into backyards, decks and gardens throughout New Zealand, Australia, the UK and Europe and finally they've arrived with a North American range. With the tap of a hammer a Metalbird will transform your environment into a work of art and surprise and delight visitors for years to come.

This majestic bald eagle measures 5" H by 6" W (not including spike) and is made in the USA of 1/6" bullet-proof mild steel to form a beautiful patina of rust that changes with the seasons. Easily installed with the tap of a hammer (but pre-drill hard wood).